With the on-going project of Paglaum Baptist Mission / PIEI-Philippines, another pastor from the outreach ministries of Ormoc receives a bike.
Ptr. Rudy Laag has been in the ministry for quite sometime. He is pastoring one of the first established baranggay church under the Lighthouse Ministries wave back in 1990's, Milagro Baptist Church. This church has been started with the joint efforts of Rev. Tom Smith and Rev. Vir Olaer.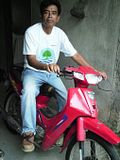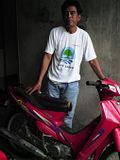 Today, the ministry in Milagro continues and is continously growing. With this new 2nd hand motorcycle, it is our deep prayers that more people will come to know the Lord and the ministry will continue to extend in nearby baranggays.
Join Play Worship Guitar Today
Get Started Now For ONLY $1
Try It Risk -Free with our 60-Day Money Back Guarantee!